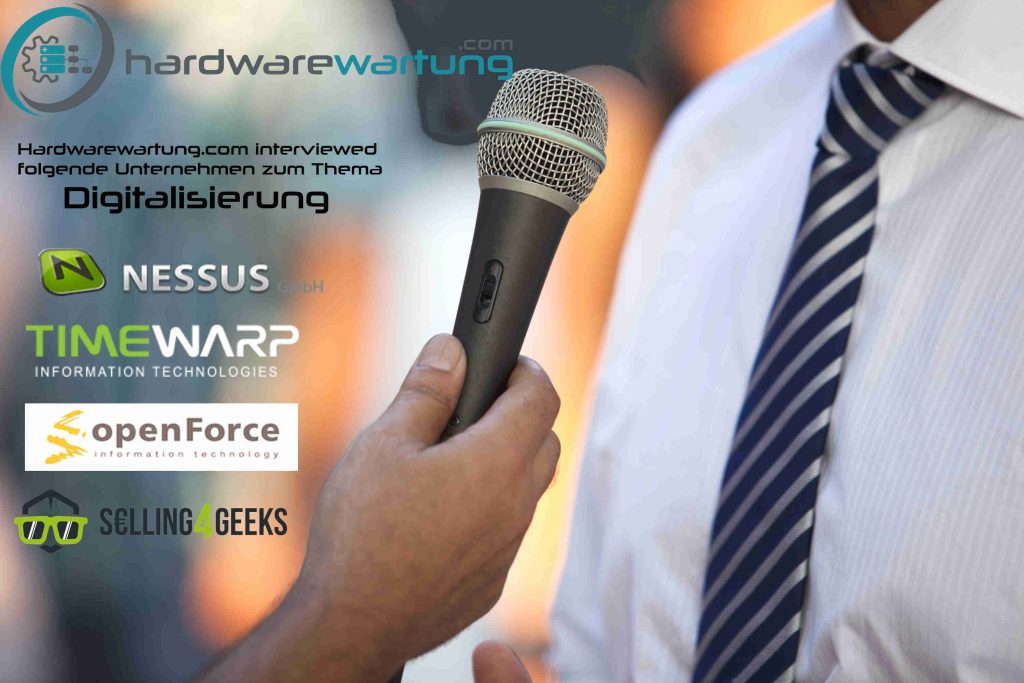 The reality of digitization is different from that presented in the media
For several years, a specter haunts the media. The digitization! It seems a sword of Damocles hovers over the heads of all companies. All those who are not flexible and fast enough, who are threatened with doom in the future. Now Hardwarewartung.com want to get to the bottom of this issue. That's why we decided to start an interview series, which is intended to shed light on the real view of digitization with real entrepreneurs.
For this purpose, we specifically looked for candidates among our customers and partners who could show us their point of view from a wide variety of industries. And we have found it! Entrepreneurs, CEOs, as well as managers have done us the honor and dared to go in front of the camera. The first episodes of our "Hardwarewartung Digi Talk" are already turned off and will be broadcast digitally on our homepage in November. There will also be a YouTube Channel, which we will announce with the first episode.
In order to increase the tension until the first episode, we would like to name the companies that will be in front of the camera until the end of this year.
Our interview candidates for 2016
People from these four companies will tell us their reality about digitization in 2016. We hope that our selection from our customers and partners will provide a good reference group for our digitization talk.

TIMEWARP IT Consulting GmbH is a pioneer in the field of Hybrid Cloud Services. Founded in 2001 by Michael Pambalk-Rieger in Vienna, the company is owner-managed and has several hundred customers in the areas of housing, hosting and XaaS.

Selling4Geeks is a brand of Alex Rammlmaier. It should especially help IT companies with the topics of sales, corporate value development and holistic consideration of the company's success. As an IT expert, coach and long-time entrepreneur, he has developed methods to break down highly complex corporate structures down to the simple elements. By working on these elements, he achieves goals that are seemingly impossible.

Nessus Internet Dienstleistungs GmbH was founded in 1999 by today managing partner Florian Schicker. The core competence is clearly in the areas of managed hosting and high availability in the data center. In mid-2009 they opened their own data center with a total area of 700m² in Vienna. Nessus thus offers all services from server housing to highly available web server clusters, all from one source

openForce is an Austrian software consulting and project house, offering customized solutions for the Java and Scala platform with modern and easy-to-use interfaces for cloud and mobile applications. They work mostly as white label providers and create solutions that are planned holistically, developed agilely, tested and handed over turnkey.
Send request
Digitalization at Hardwarewartung.com
For us too, the topic of digitization from the founding date was essential. We are the first hardware maintenance vendor to build a pure online sales channel and have focused on automation right from the start. Through digital sales and automation-supported online contract management, we have managed to standardize the maintenance market. So we have dramatically reduced our costs and offer our services up to 50% cheaper than comparable providers. Benefit from our excellent prices and our experience. Get a quote now.
Send request