Cisco Support – reducing costs without compromising quality or function
The most common maintenance product of the Cisco Support is the Cisco SMARTnet Service which consists of three basic components.
Hardware support and repair including spare parts Service
Software-Support and Upgrade Service
TAC Support
The combination of Cisco Partner Shared Support (PSS) and our in-house Professional Service provides exactly the same, but at a much lower price. We call these products SmartHWW. This is how it works.
Hardware maintenance with Partner Shared Support (PSS). The cheaper alternative!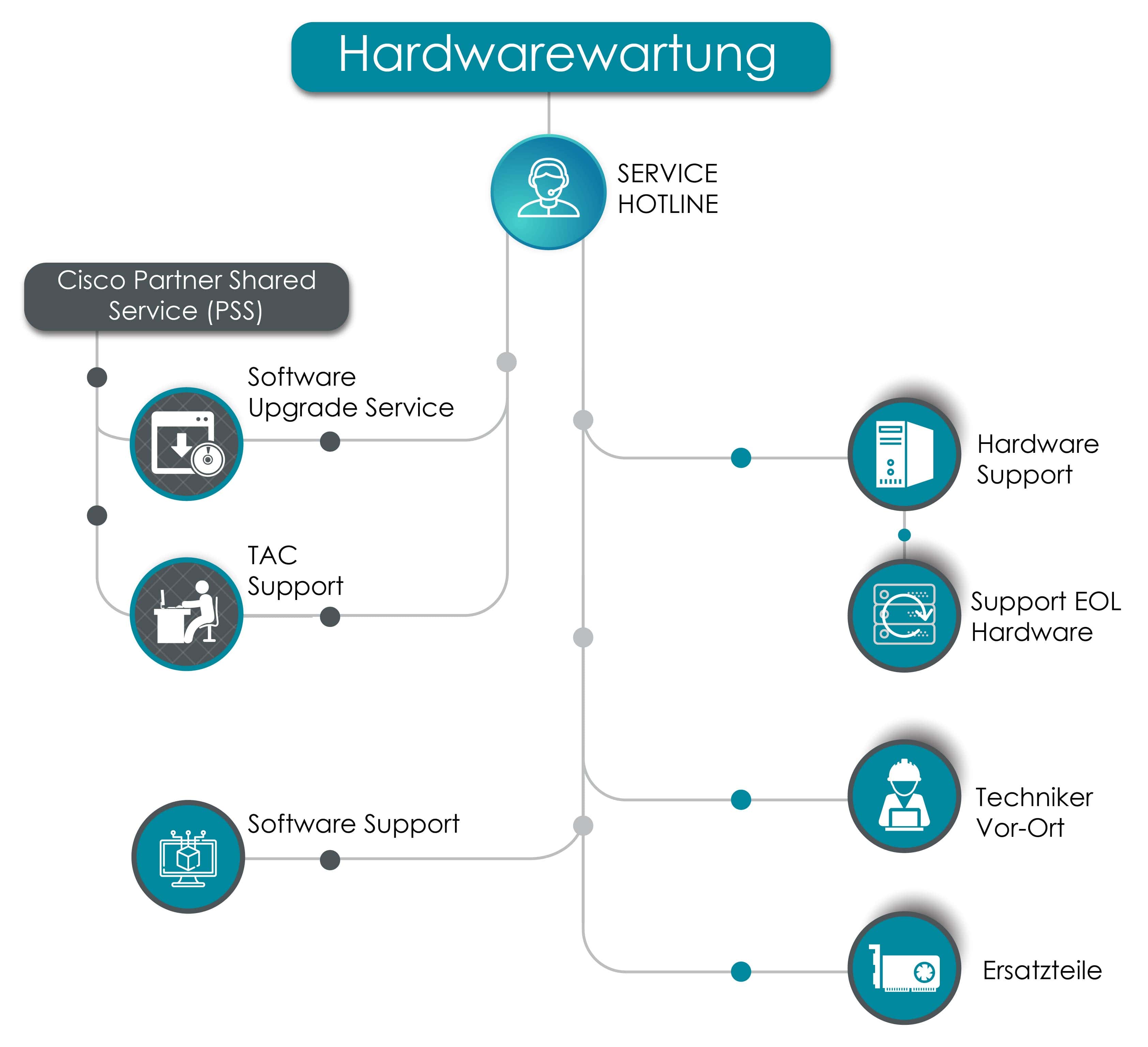 Cisco Partner Shared Support (PSS) is a practical alternative to Cisco SmartNet. Designed specifically for customers who have Cisco hardware integrated into their IT infrastructure and have an active support and maintenance contract with a maintenance expert like us. This product includes hardware and software support with own technicians, know-how and spare parts. Additionally we buy the Software Upgrade Service and access to TAC Support through a Cisco Partner Shared Support package.
As a result, customers can continue to use their Cisco Connection Online (CCO) account for software downloads and tools to stay up-to-date, but have the confidence of having the best Cisco technicians in the event of a malfunction. All in all, the performance equates to a classic Cisco SMARTnet, except that the customer can choose his Cisco certified technician in case of failure. With our specialization in Cisco support and scaling, we can offer significantly lower prices and save up to 50%.
The advantages of the SMARTnet alternative at a glance:
24×7 access to specialist know-how and technical support for the entire Cisco Data Center.

Support of all service levels that Cisco SMARTnet also offers.

Support in case of system malfunctions with hardware and software support.

Access to new firmware, patches and updates for registered Cisco hardware.

Full hardware support also for your End-of-Life (EOL) devices..

Escalation to the Cisco Technical Assistance Centre (TAC).

Save up to 50% on costs with the same performance.
Send request
Cisco Specialist at the Best Price
Through decades of experience we know what is important for the maintenance of your Cisco network components. Benefit not only from our experience, but also from our excellent prices. Get a quote now and compare for yourself.
Send request
Optimize your Cisco Support
Many companies that use Cisco routers or Cisco switches always contact the manufacturer after the warranty has expired. Here they hope to find a particularly reliable solution. But this assumption is not always true. In many cases, a manufacturer-independent service provider can solve the problems with your network much better. While the manufacturers only maintain individual devices, we take care of the entire network. This is very important because in many cases very unspecific symptoms occur. If a router or switch simply fails, diagnosis – and thus maintenance – is very simple. However, if the problem is that the transmission speed is slower than usual or there are occasional small interruptions, it is much more difficult to detect the problem. Our technicians have years of experience in this area and find these faults very quickly. With a high density of Cisco certified field engineers, 2nd and 3rd level technicians, repairing and restoring your network infrastructure is easy. Besides the high quality we offer you another advantage. Our maintenance services are considerably cheaper than corresponding solutions from the manufacturer due to the use of our own resources. The cost saving is up to 50 percent.
Faster and more reliable: our SLA
A failure of the network affects the complete production in many companies. The financial consequences are considerable. In order to minimize losses, our Service Level Agreement (SLA) provides for precisely defined processing times. Our Cisco support is there for you around the clock. On-site technician arrival times are up to four hours. It is particularly important that we also offer guaranteed repair times of up to four hours on request. Software support and downloads are covered by our partner Shared Support (PSS).
Send request
Your Cisco Network Specialist
If you discover a defect in your network, you can contact us at any time. Even after the warranty has expired, our Cisco support is always an excellent alternative to repair at the manufacturer. Our technicians will help you with any problem competently and at an excellent price. Ask for a maintenance offer and compare for yourself.
Send request
Our own warehouse: the basis for successful maintenance
To maintain routers, switches and other elements of the network, spare parts are often necessary. If these are not immediately available, network maintenance can be significantly delayed. Unfortunately, suppliers in this area are not always reliable. Therefore, we have set up our own warehouse with our own resources. With over 40 locations in Germany, Austria and Switzerland, we have all the spare parts required for the various Cisco devices ready. Just like our support, our warehouse is available 24 hours a day, so that all components are immediately available. Therefore, we can always promise an immediate repair. But that's not all. We also have qualified logisticians who ensure that every spare part arrives quickly at its destination.
Maintenance after the end of life – we'll help you
In information technology, the hardware of networks is one of the products with the longest service life. This is due to the fact that the requirements in this area have only risen slightly. Office switches already had gigabit ports 15 years ago. To date, the interfaces of almost all notebooks and desktop PCs have not surpassed this level. Of course, there have also been some increases here, but even older routers and switches can easily meet the requirements of an ordinary company. Therefore there is no reason for a change. However, if a defect occurs, it can be difficult to find a suitable provider for maintenance. This is because manufacturers stop producing spare parts after the End of Life (EOL). This point in time has already been reached, for example, for several units in the popular Catalyst range. We replenish our stock on time and can maintain your equipment for at least 10 to 20 years after the EOL.
First-class network maintenance
If you are looking for a professional partner for network maintenance, our products offer you numerous advantages:
Professional maintenance of the entire network
Cisco-certified technicians round-the-clock
fast response and call to repair times
spare parts warehouse for hardware maintenance for EOL hardware
Best prices: Cost savings of up to 50 percent!
Do you want your company to benefit from these advantages? Then contact us. We will be happy to take care of your network.
We support the following Cisco hardware